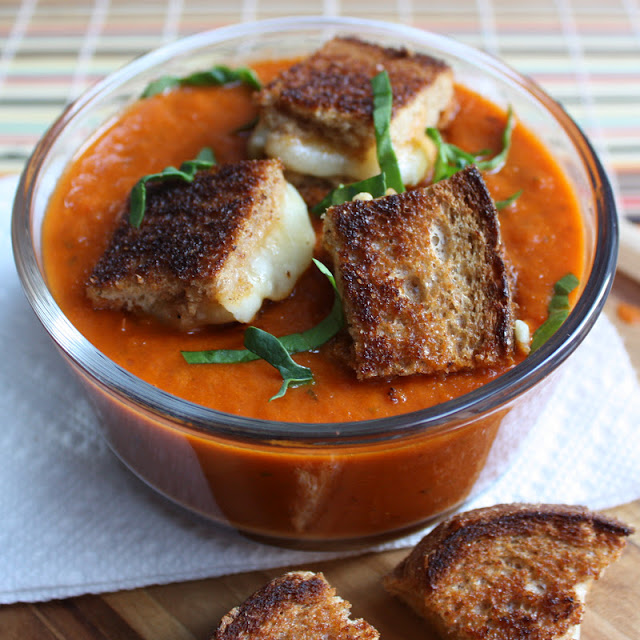 Serves 4
3-4 lbs plum tomatoes
1 yellow onion, large dice
6 cloves of garlic, peeled (4 left whole for roasting and 2 minced for sauteeing)
4 tbs olive oil, divided
1/3 cup dry red wine
2 cups chicken stock
1 tbs balsamic vinegar
6oz can tomato paste
1/4 cup fresh basil, finely chopped (and some extra set aside for garnish)
1 teaspoon sugar (optional)
1/2 tsp red pepper flakes
1 tsp kosher salt
1/2 tsp freshly ground black pepper
Optional: 1/4-1/2 cup regular or fat free half-and-half if you want it to be a little creamier

Preheat oven to 375. Cut plum tomatoes lengthwise and cut the onion into large chunks. Lay the tomatoes, onions, and 4 garlic cloves onto a large baking sheet lined with parchment or foil. Drizzle with 3 tablespoons of olive oil and season generously with salt and pepper. Roast for 50 min to 1 hour and allow to cool.

Once the roasted tomato/onion/garlic mixture has cooled a bit, transfer it to a blender and puree until smooth.

In a medium-sized pot over medium heat, add 1 T olive oil, 2 cloves minced garlic, red pepper flakes, salt, and pepper. Cook about 1-2 minutes until garlic is fragrant.

Pour in the pureed tomato mixture and cook about 5 minutes. Then add the tomato paste, sugar, chopped basil, red wine, chicken stock and balsamic vinegar and stir to combine. Allow the mixture to come to a boil and then reduce to low and allow it to simmer for 30 minutes to an hour.

If you feel the soup is still not smooth enough, you can run through the blender again or use and immersion blender. Taste and season with additional salt and pepper as needed.
Recipe via Get Off Your Tush & Cook